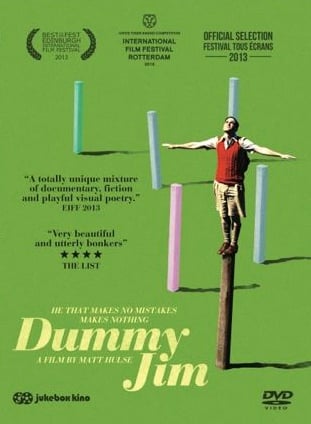 Dummy Jim Special Edition DVD
£

10.00

/ Sold Out
---
DUMMY JIM
✩ DUMMY JIM (OFFICIAL TRAILER) ✩ Director Matt Hulse ✩ Featuring Samuel Dore ✩ from Matt Hulse on Vimeo.
Nominated for the Michael Powell Award (EIFF 2013) and a Tiger Award (Rotterdam 2013) Dummy Jim weaves fiction, documentary, animation and archive to explore the eccentric adventures of profoundly deaf Scots long-distance cyclist James Duthie who hailed from the close-knit Aberdeenshire fishing community of Cairnbulg and Inverallochy. In 1951, he set out on a lone cycling tour to Morocco. After three months of pedalling, he reached the Arctic Circle. "If you want to make God laugh, tell him your plans." 12 years in the making, Hulse crafts a multi-layered memorial to a quietly determined maverick and the community that shaped him, with present-day village inhabitants emerging as creative participants. Deaf actor Samuel Dore leads.
This special edition DVD contains a fully captioned version of Dummy Jim plus a subtitled director's commentary and special features.
"A totally unique mixture of documentary, fiction and playful visual poetry." (EIFF 2013)
"Very beautiful and utterly bonkers" (The List****)
"Stimulates the senses, a sensory movie experience." (Het Parool****)
Buy this and ANY other item and save 10% on your order > use discount code ARCTICCIRCLE2015 at checkout.